Following on from my recent post about my trip back to the Masai Mara this year, here's part 2 of this little mini-series.
(Matt - thanks for the comment and yes, stay tuned - I'm thinking about doing a kit and gear post as an aside for part 3 :)
The first of many 5:15am alarm calls heralded our first full day out on the plains. After a quick coffee and homemade biscuits (yes - at that time in the morning!) it was out to the Landcruisers and off into the inky blackness to chase the sunrise. It was less than thirty minutes later that Benja and his Kicheche colleagues located a pair of lionesses with six cubs between them, and a bit of swift off-road driving got us below the ridge with the sun coming up behind them.
What followed what would become typical for the remainder of the week - events unfolding quicker that you can point a camera at, as the family made their way down the ridge towards our collection of vehicles as the sun broke over the ridge behind them. Cue lots of swearing, jumping around vehicles and long lenses swinging around and nearly taking each other's heads off as we chased shots that were coming and going before our eyes. The cubs, meanwhile, were having a whale of a time.
Things finally started to settle down and one of the cubs started heading over to a watering hole. The light was still quite low coming over the hill, so it was a natural choice to underexpose and pick out the highlights in his fur. The elements came together and I got a couple of my favourite images from the week.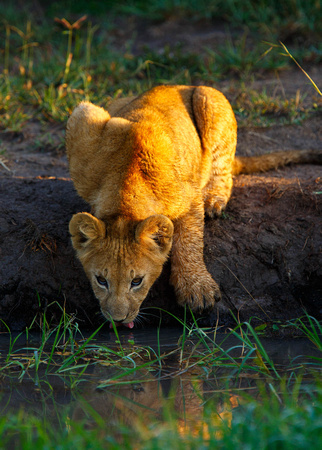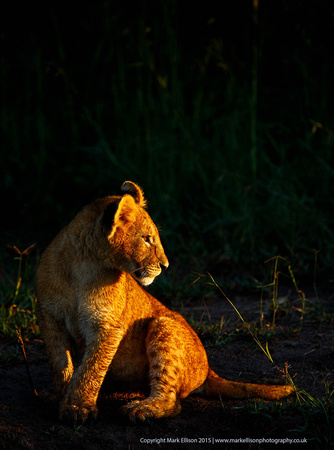 Excitement briefly over with, we amused ourselves with elephants and giraffes for the rest of the morning before heading back to camp for lunch, a review of the morning's work and a rest before the afternoon session. On heading out, we quickly stumbled across Amani, who we'd seen the night before. It looked like she hadn't eaten since last night but as we were watching, she clearly spotted something in the long grasses up ahead. Scanning the bush with binoculars picked out a well-concealed impala, which she then started stalking.
We quickly moved down range of her, both to get ahead of any action as well as to give her some space. It was at that point that Paul, our guide, heard details over the radio of another spotty cat some way off, so decided to leave her to us and to go and investigate. The chase eventually amounted to very little, as the impala made off before she got close, at which point we strapped in and hurtled off to see what the others had found.
Which was a leopard, hunting warthogs in broad daylight from cover provided by a small copse of trees.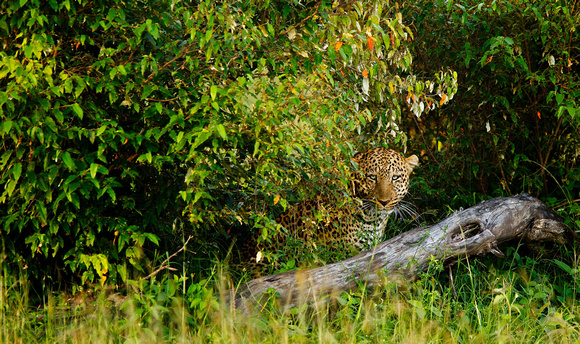 After having little luck, he started to walk over toward us, getting closer, closer. And closer.
Eventually he came right up to our vehicle, sitting down by the back wheel where I was sat. Looking up, I then found myself staring down the barrels of my fellow photographers cameras! I think I must have held my breath for a full five minutes. Eventually he sauntered off, casual as you like and was gone. But in the space of a single day, I'd got my third definite keeper image. And then, all too soon, it was off for sundowner beers, back to camp, food, and bed, to dream of what the next day would bring...