Right then, it's high time I think I updated the blog with a few things I've been up to recently. I'm off to Kenya next week, so need to catch up!
Back in March, I got to talking with a fellow photographer who'd had some success with establishing a hide to photograph kingfishers on a tidal estuary on the England/Scotland border. I've always loved these gorgeous iridescent masters of the riverbank and have seen them from time to time while out walking, but never had the opportunity to concentrate on getting photographs.
So, I booked myself in, bombed up the motorway one evening after work and after an overnight Travelodge stopover, arrived at the location just as first light was starting to break through the trees.
Myself and two other photographers then squeezed ourselves and all our kit into, basically, a small wooden shed overlooking the river, cracked open the flask of coffee and waited.
We could tell from the clouds and overall light level that it wasn't going to be a great day, weather-wise, so ISO levels had to be pushed (often up to 3200, but I know from experience that if I get the exposure right, my 5D Mark III can cope with that just fine). After a few hours, we'd not had any luck but had heard the tell-tale pip-pip sounds as they buzzed up and down the riverbank.
Our patience was rewarded though, as the male eventually showed himself and we got some nice visits.
We knew that there was also a female around, and not long afterwards she made herself known too, resulting in squabbles with her mate over the perch. In kingfishers, the female is easily distinguished from the male if you see them together. Her plumage is effectively a desaturated version of the male's, and she has a pale orange tint to her lower bill.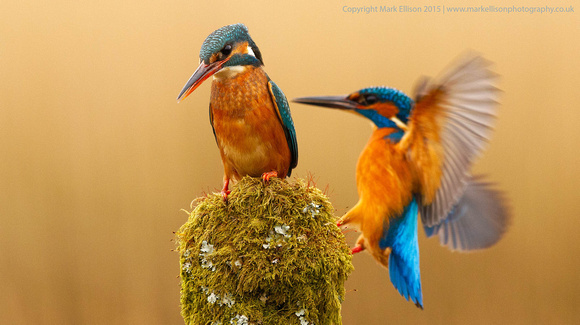 Wildlife photography is not without it's challenges, and while not a risky hobby (compared to say, skydiving), it often needs patience, research, and understanding and respect of the subject and occasionally some physical discomfort. We'd been warned that with the hide being on a tidal estuary, the water level would rise up during the day and with it being close to a high spring tide, the water might come up the base of the hide.
Sure enough, bang on schedule around midday, the river level had risen substantially and we were all so focused on the birds that we initially didn't notice the water creeping into the hide itself. A feeling of wet feet resulted in a quick scramble to hoist camera bags up onto the benches and we spent our lunchtime sat with our feet in a few inches of cold water! - the things we go through...
An hour or two later, the water slowly receded and the birds seemed to reward us with some great opportunities.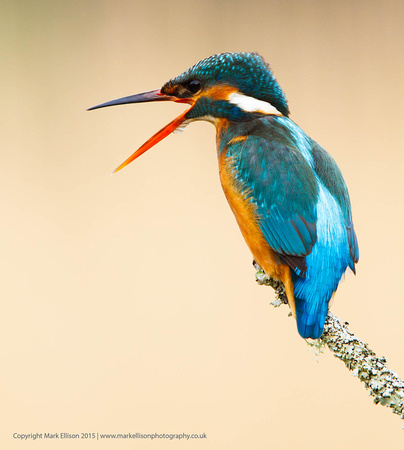 As the light levels slowly dipped, the shutter speeds got ever slower and the ISO setting got ever higher, we eventually decided to call it a day after about 8 hours in the hide. A great day, and my boots are nearly dry now.
More photos from the day can be found in my Kingfishers gallery on my portfolio page. Hope you like them.