Five years ago, I made my first trip to Kenya and it's fair to say I fell in love with the Masai Mara. It's not without good reason that you see so many nature documentaries made about the wildlife of the Mara and East Africa. For sheer concentration of wildlife in it's natural environment there's nowhere else quite like it.
I'd always planned to go back at some point and this year decided to make it happen. Having booked myself on a photographic tour with Exodus and Kicheche Camps in the Mara North Conservancy, the last week of June finally came around and after an 8 hour overnight flight to the sprawling expanse of Nairobi later, we found ourselves heading across town to Wilson airport and our much smaller plane into what would be our home for the next week. After a short flight into the wilderness and a grass airstrip landing, I was back in the Mara.
After being whisked off to camp (and I can't recommend Kicheche highly enough), bags were dumped, introductions done and lunch taken, and then we were off out. Our usual routine for the week was alarm call around 5:15am, coffee and biscuits at the mess tent and then out in the vehicles for 6 to catch the sunrise. Back around lunchtime, then out again from 3:30pm till after sunset, followed by a quick shower, 3 course meal whisked up by the camp's amazing chefs, a couple of beers and then bed, to be repeated the next day.
But I'm getting ahead of myself. This was day 1.
Kicheche Mara camp is situated in the Mara North Conservancy. The conservancies are geographically part of the Masai Mara reserve, but were set up as an antidote to the free-for-all that the reserve has tended to become in recent years. Still completely open and unfenced, they enforce restrictions on the number of vehicles and camps permitted, making any wildlife encounters much less of a bun-fight and back to how it used to be.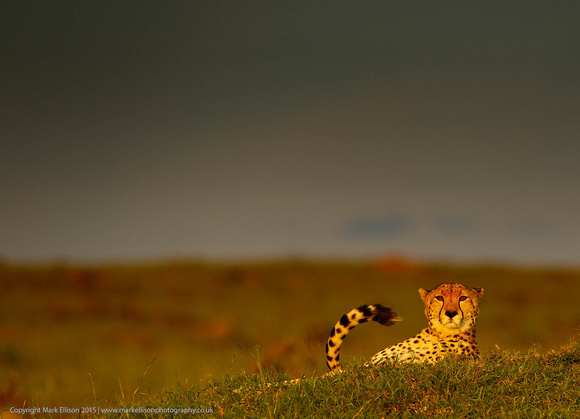 After heading out of camp, we'd come across plenty of impala, giraffes, a few kingfishers and other big birds and the odd buffalo. With June being quite early in the season and after the rains had fallen, the plains were a verdant green. There were few wildebeest around, with the migration season being some time off yet. Unsurprisingly, the main focus of our attention was big cats and it wasn't long before we found our first of the week.
This is Amani. Well known in Mara North, she'd managed to successfully raise a number of cubs, only to lose them to hyenas quite recently. She apparently kept returning to where she'd lost them, which was particularly sad to see. Despite their speed and agility, a cheetah is no match for a hyena when it comes to size and brute strength and whenever they take down a kill, they're very often just muscled out of the way. It's a real problem and one that has no clear solution.
After taking our fill as the sun went down, we headed off and worked our way back towards camp, stopping for sundowner drinks and to take in the first of many sunsets. To be continued...