Evening all! I hope everyone's looking forward to the long Easter weekend. While not quite rabbity, they're close enough that this gives me a good excuse to talk about an animal that I'm slowly becoming somewhat obsessed with, given that I'm fortunate to have them on my doorstep. Namely, Mountain Hares. I've talked about them before in this blog and aside from the highlands of Scotland, the only place they are found south of the border is in small enclaves in the Peak District.
Hardier than their lowland brown hare cousins, they're to be found high up on the moors and that in itself forces any wildlife photographer to put in some effort. It took me many visits, scouting out different locations in all weathers before I found a good population. And from observations over time, I knew that they are in their iconic winter coats from about December to March, before they start to moult back into their more drab brown fur, which doesn't leave a great window of opportunity, especially as the weather can be somewhat extreme up on the tops and even more so when you've only got weekends in which to work.
I had some good results with them a few years ago, but last year was disappointing. Their numbers just seemed to have crashed and that worried me. They are often the target of shooters, trying to sanitise the moors to anything other than grouse. So it was with some trepidation that I gathered up my 15 kilos or so of gear and started the hour long hike up the hill from where I parked the car, hoping for better results this time.
On getting to where I'd had good results in the past, an hour or so of combing the ground was proving fruitless, so I decided it was time for a sit down and elevenses, and a bit of a think.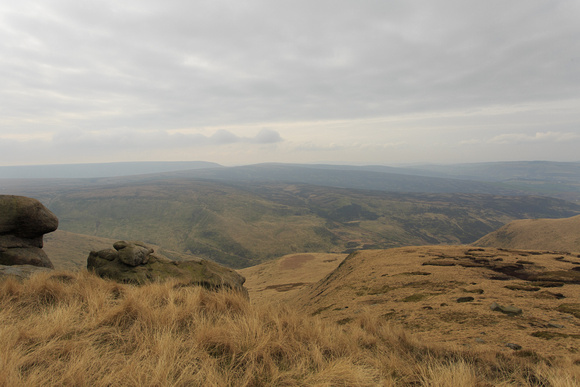 Fieldcraft plays a big element in wildlife photography and even though I'm an amateur, it's still something I try and pay good attention to in my work, so I'd noticed that the wind was blowing in from a slightly different direction from normal. Hares, while not feeding or off chasing the girls, often lay up in forms, or scrapes, in the ground with their backs to the wind (they're not daft...)
So I decided to take a punt and headed down the other side of the hill away from the prevailing wind, in case they'd moved on. Result!
Okay, so you've found your hares. What next? I then spent 15 minutes or so circling around to approach from the other side where there was a bit more cover to break up my silhouette.
I've found that it's all but impossible to completely sneak up on these guys but by doing a bit of belly crawling from 30 or so yards out, it seems to make me look less threatening. Even then, they seem to fall into two camps; those that are still not happy and take off, but occasionally, just occasionally, you'll get lucky and find one that is tolerant..
I decided to chance my arm with these two. The far one decided he wasn't interested and wandered off but the closer fellow, he seemed happy to stay put the closer I got...
Now, it's at this point that it's heart in the mouth time and when I feel my heartbeat start to increase. I slowly edged around the rocks, expecting him to bolt at any time.
And this is when I hold my breath. But even then, experience tells me it's more than likely going to be OK. He's seen me, he's not run and he's clearly happy to tolerate my presence. Even so, it was a good ten minutes or so of not moving before I was happy he wasn't stressed or worried before I dared moved again.
Amazingly, he then settled back to sleep for a bit before having a yawn and stretch and going off for a bite to eat.
It's days like these that remind me why I adore what I do. The pressures and worries of normal life melt away, spending an hour or so in the company of a truly wild animal going about it's life, happy to accept your presence, with just the wind and the occasional call of a grouse for company in the far distance.
And after he'd given me so much, it was my responsibility to back away and leave him be.